15. October
Healthy snacking with Ísey Skyr
In collaboration with FitLifeMode
Nutrition plays a key role in healthy lifestyle, and if you're like me, who loves fitness, what you eat can really affect your performance. Eating clean and frequently (every 2-3 hours) is very important to me, because it allows me to maintain a fast metabolism as well as feel great.
Juggling a full time job with part-time blogging can sometimes be a bit hectic, therefore I'm always on the lookout for healthy, easy to prepare snack options. Recently I have discovered a new dairy product – Ísey Skyr – and I would love to share my experience, tips and a few recipes with you guys. 
Ísey Skyr and why it is good for you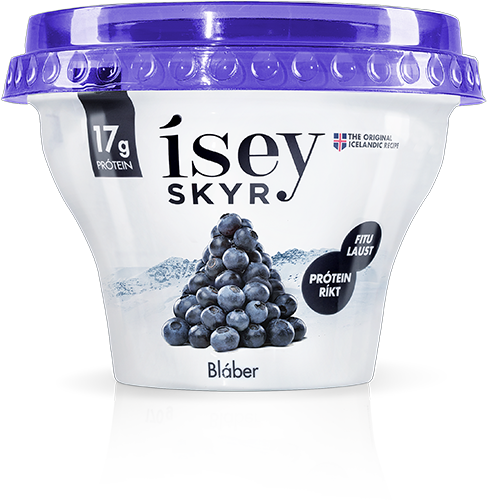 Ísey Skyr (pronounced ea-sey skeer) is an Icelandic dairy superfood. It's authenticity dates back to 10th century when Norwegians brought this product over to Iceland. The original recipe has been passed on from generation to generation and its uniqueness is maintained until today. Ísey Skyr is made in Iceland using milk from local farmers and Skyr culture which gives the product its rich, creamy and thick texture.
Ísey Skyr has high protein and low fat ratio without sacrificing the texture and the taste. High quality milk being one of the main ingredients also makes the product rich in calcium. Ísey Skyr comes in three flavours: vanilla, strawberry and blueberry as well as its true form – Ísey Skyr natural. 
I've tried it and I …
Loved it! It's bursting with health benefits and it tastes more like a dessert rather than a dairy product so I was left very pleasantly surprised!
What I really loved was its texture – it's creamy and really thick – that sort of thickness that won't fall off a spoon.
The flavours also don't taste artificial, unlike other mainstream products. Ísey Skyr comes in convenient size pots that are perfect if you're out and about and need a healthy snack. My favourite has to be the natural option because of it's really great nutritional value, but if I want to treat myself I'd go for strawberry.
It's delicious on its own, but you HAVE to try this
I love experimenting with food and constantly coming up with new recipes. This way I'm never bored of what I eat. I decided to see what I can whip up with Ísey Skyr and so I discovered these two delicious and super easy to make recipes –  a smoothie that will keep you full for longer and an indulgent but also healthy dessert.
Ísey strawberry vanilla smoothie
makes 1 smoothie
What you'll need
2tbsp of organic rolled oats
1 ripe frozen banana
1 pot of vanilla flavour Ísey Skyr
A handful of strawberries
Organic almond milk
Instructions
Add all ingredients and blend them well together – it really is that simple.
Strawberry and vanilla is such a summer-y flavour combination, it's gently sweet, but refreshing! Oats make this smoothie thick and satisfying so it will keep you full for longer. Frozen banana adds creaminess and keeps your smoothie refreshingly cool. Perfect start to your day!
Ísey blueberry cheesecake
for 2 to share
What you'll need
1 really ripe banana
40g organic rolled oats
40g organic almonds
2 tsp of cinnamon
1 pot of blueberry flavour Ísey Skyr
2tsp of chia seeds
A handful of blueberries
Instructions
Add oats, almonds and cinnamon to food processor and blitz them all together. Mash banana and add it to blended oats and almonds. Mix it well. It should form a sticky mass which you're going to use as a base for your cheesecake.
Find a small glass and fill the bottom with cheesecake base. You'll need about 2 tbsp of the mixture per portion. Smooth it all out and press it so it's nice and compact. Stick that into the freezer for 30 minutes.
While the base is cooling prepare your filling: mix chia seeds with Ísey Skyr and set it to one side. You can also wash your blueberries. Once the base has hardened, layer chia seed and Ísey Skyr filling and top that with blueberries.
It's a really simple, healthy and delicious way to treat yourself when you're craving a dessert. Combined blueberry, banana and cinnamon flavours work well together to give you that sweet, yet refreshing taste.
Are you ready to give Ísey Skyr a go?
I'm really excited to add Ísey Skyr to my nutrition plan. On busy days I can just pop it into my bag and will have a healthy snack in no time, while on weekends I'm really looking forward to whipping up more delicious and healthy treats!
Ísey Skyr has just launched it's vanilla, strawberry and blueberry 170g pots in Waitrose, while the bigger 1kg natural pots are available at Costco. Check this handy link to see the closest store to you.
Happy cooking!